Home Page Deliverance Salvation The Rapture Hell The Authorized Bible Healing Bible Archeology Warfare Prayers The Seven Mysteries&nbsp Mind Control KJV Bible AUDIO by Royal Shakespeare Company&nbsp Spiritual Circumcision&nbsp Gospel Songs&nbsp Dr Ruckman AUDIO Romans Study&nbsp Earn Eternal Rewards
Salvation - Getting Sinners Saved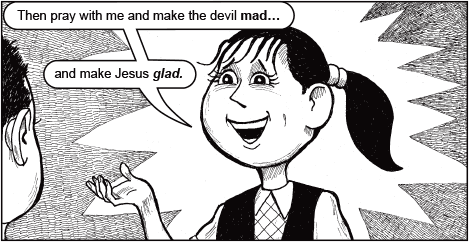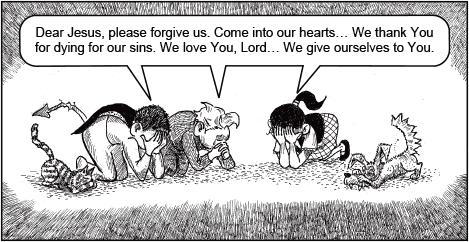 Cartoon pics above are from "The Little Ghost" - scroll down page to read the tract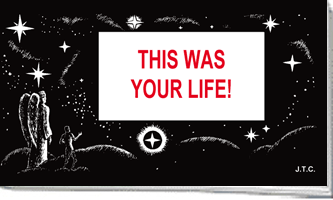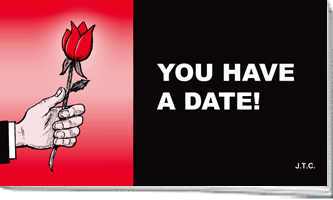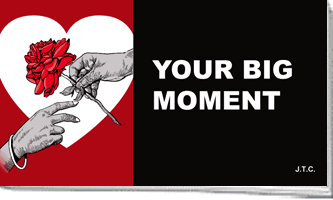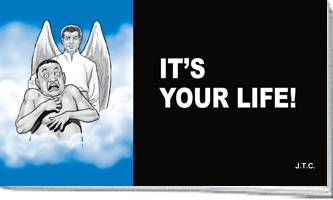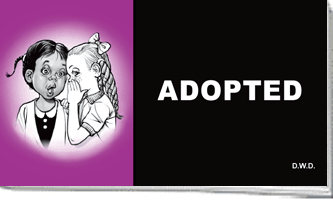 "Life is short, death is sure, sin the curse, Christ the cure"
Below are three different videos for a follow-along walk-through with exactly what to say when getting saved:

If you died today do you know for sure that you are going to heaven?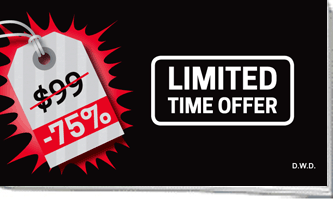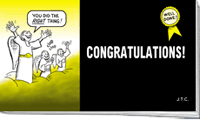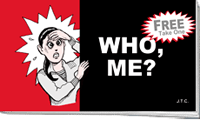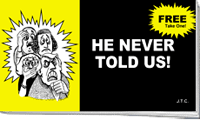 Have you ever asked Jesus to come into your heart, or are you not sure if you have?

Would you like to be saved and go to Heaven? Why yes, of course you would, because we all have sinned sometime in our lives and therefore in God's eyes we have a dark heart, and God won't allow a sinner into Heaven. Under the Law of the Old Testament, breaking just one of Gods laws, or commandments puts us in a condition not fit for Heaven.

Rom 3:23 For all have sinned, and come short of the glory of God, Rom 6:23 For the wages of sin is death; but the gift of God is eternal.
But here is the good news - with the New Testament, or covenant, Jesus has redeemed us from the curse of the old Law. Know that Jesus loves us and has paid the price for our sins by taking the rap for us and taking our place by dying for us on the cross.

Rom 5:8 But God commendeth his love toward us, in that, while we were yet sinners, Christ died for us.

To accept his free gift for us, we need to tell him and ask Him to come into our hearts.

Rom 10:9 That if thou shalt confess with thy mouth the Lord Jesus, and shalt believe in thine heart that God hath raised him from the dead, thou shalt be saved. For with the heart man believeth unto righteousness; and with the mouth confession is made unto salvation. For the scripture saith, Whosoever believeth on him shall not be ashamed. For there is no difference between the Jew and the Greek: for the same Lord over all is rich unto all that call upon him. For whosoever shall call upon the name of the Lord shall be saved.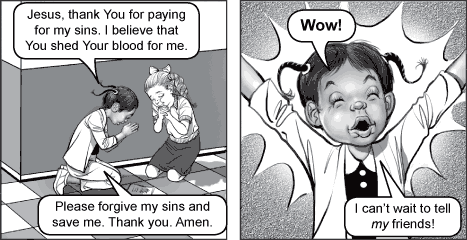 Speak to Him with a prayer such as this one, and mean it with your heart, and you will be saved:

"Lord Jesus, I know that you are the son of God. You died on the cross for my sins and rose again from the dead. I'm sorry for my sins, and I ask you to forgive me of my sins, and come into my heart and save me from hell. Thank you Jesus."

Joh 10:28 And I give unto them eternal life; and they shall never perish, neither shall any man pluck them out of my hand. 2Ti 1:9 Who hath saved us, and called us with an holy calling, not according to our works, but according to his own purpose and grace, which was given us in Christ Jesus before the world began.
How To Save Children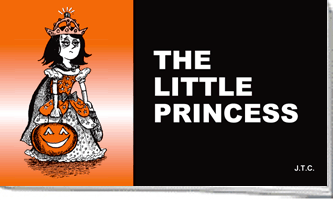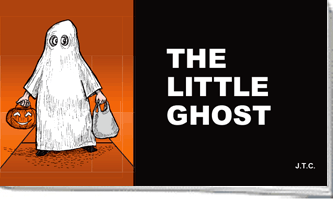 Children must be saved

.
Mark 9:37 Whosoever shall receive one of such children in my name, receiveth me: and whosoever shall receive me, receiveth not me, but him that sent me. Luke 18:16 But Jesus called them unto him, and said, Suffer little children to come unto me, and forbid them not: for of such is the kingdom of God.
Children at the age of accountability need to hear the Gospel and ask Jesus to come into their hearts and be saved.
Rev 3:20 Behold, I stand at the door, and knock: if any man hear my voice, and open the door, I will come in to him, and will sup with him, and he with me.
To save the children, we must witness to them, and keep it very simple. 1) Explain to them what Heaven is like - that there is no night and darkness there, there is no sickness there, there are no mean bad people there, etc.. 2) Next ask them if they would like to go to Heaven. After they say yes, then tell them that they can't go, because they have sinned and have a dark heart. They will then think "What have I done wrong to sin?" Next asked them if they have ever taken something that wasn't theirs. Such as "Ever play with another kids toy and not give it back?" (convict them of stealing). Next ask them if they ever told something that just wasn't the truth. A question like "Do you know what happened to your brothers cookie that I had for him on the table?" and you said "I don't know" - but you did know? (Convict them of the sin of lying) 3) Let them know that they can get to Heaven because Jesus loves them and has paid the price for their sins. Explain to them that if you were knocking on their front door and they knew it was your voice and it was you, would they open the door and let you in? They will say "Yes". Jesus needs to be asked in too. Explain to them that they can open the door to let Jesus in by saying (repeating after you) : "Lord Jesus, I know that you are God's son. You died on the cross for my sins and rose again from the dead. I'm sorry for my sins, and I ask you to forgive me of my sins, and come into my heart and save me from hell. Thank you Jesus."
Now That You Are Saved - Rejoice With This Song:
Home Page Deliverance Salvation The Rapture Hell The Authorized Bible Healing Bible Archeology Warfare Prayers The Seven Mysteries&nbsp Mind Control KJV Bible AUDIO by Royal Shakespeare Company&nbsp Spiritual Circumcision&nbsp Gospel Songs&nbsp Dr Ruckman AUDIO Romans Study&nbsp Earn Eternal Rewards
1630